Blessing of the Dory Fleet
The annual Blessing of the Dory Fleet, Pacific City, Oregon
---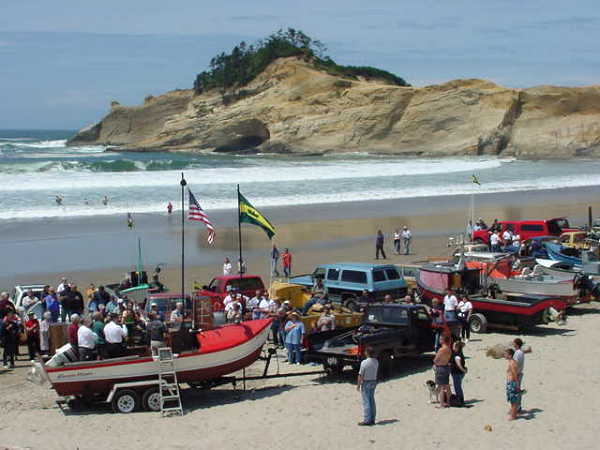 The Blessing of the Dory Fleet is an annual event held in Pacific City, Oregon. It is usually held north of the dory ramp by Cape Kiwanda.

At this event, families and captains of the dory fleet have the opportunity to remember the people who died at sea and start the upcoming season by saying a prayer to bless the current dory fleet.

A lot of the dorymen bring their boats to participate in the blessing.


We here at the Pacific City Visitor's Guide hope that all the Dorymen of Pacific City will have safe passage of the dories and a prosperous season.

To get information about the upcoming Blessing of the Dory Fleet, please see the Pacific City Calendar.

Dory Days Festival
See Dory boats, attend a parade, and visit the Artisan Fair.

Historical Dory photos
Here you will find historical Dory photos from Pacific City

Dory Boat Launch
See a Dory boat launch into the Pacific Ocean from the beach in Pacific City.

Story of the Pacific City Dory
Read the Story of the Pacific City Dory.


---
Copyright | Privacy Policy | Disclaimer | Contact