Play in Pacific City
Things to do in Pacific City
---
Access Beach
Pacific City has three beach accesses. The southernmost is Bob Straub Park and is the best access to explore the spit created by the Big Nestucca (access is pedestrian only). The center beach access at the end of Pacific Ave (after crossing the bridge) is used mainly by pedestrians, but 4X4 vehicles are welcome to climb the dune for beach access (please note traffic signs). The most popular is the Cape Kiwanda Parking lot at the most northern end of PC Beach. There you will find easier access for vehicles (including the dory launchers) but be careful with the tides coming in. This is also where you will find the Cape Kiwanda Marine Gardens with tidal pools and interesting sandstone formations. The ramp from the parking lot down to the water should be easy access for handicapped and wheelchairs (they then become beachchairs). (
What do bring to beach?
)
---
Beach Combing
Everyone's favorite pastime. We have our share of agates, sand dollars, hermit crabs and treasure washed up from around the world. Need I mention splashing in the surf and do that "wadding until your rolled up pant legs get wet" thing? (sound familiar?). Then you can build that sand castle on one of the most pristine beaches in Oregon...
---
Bicycling
Everyone in Pacific City promotes Bicycling whether on the beach or downtown. We have a Bike path through town for safe navigation and Bike Rentals. (See eBike Rentals in the directory)
---
Bird Watching
We are home to a multitude of species including Bald Eagles, Puffins, Sea Gulls, Crows and Ravens, Pelicans, Herons, and migrating Canadian Geese (thousands fly just overhead all season honking their way along)
---
Camping
Pacific City is a campers dream. We have several county, state, and private campgrounds right here in town (see links on main page). Several local businesses cater to the campers needs with every possible want fulfilled.
---
Canoe, Kayak and Motor Boating
We are indeed the boaters paradise on the Oregon Coast. We have the Big Nestucca which is slow running with plenty of room for either canoeing, kayaking, or motoring. We have several river accesses with easy launching (see rivers link on main page). Many of our visitors paddle our large Nestucca estuary and canals. And don't forget the surf and open ocean for the daring kayakers.
---
Clamming
The only easier harvest of clams is to go to the grocery store. Take your fork or shovel during a minus tide and help yourself. Be sure to take a BIG bucket.
---
Crabbing
Most of our crabbers are almost embarrassed how easy it is to gather a daily limit of dungeness crab. Sometimes the locals end up giving part of their catch to strangers on the street from just having more than they can use.
---
Dining
Pacific City has several fine and fun restaurants, diners, delis and take out. Take a look at the Biz Directory and try them all. A happy tummy makes for a happy day.
---
Dory Watching
Be there when the Fishing Dories launch off the beach. We are one of only two beaches on the west coast where these brave hearts challenge the breakers to get out to the great fishing with their dories. Take advantage of our local charters to get the thrill of your life. Then give them plenty of room when you hear their horn blowing as they land their large flat bottom boats at full speed ahead. See Dory boat launch below!
---
Fishing
Pacific City is renown for it's fishing. We have an abundant spring and fall run of Salmon in the Big Nestucca right in the middle of town. Many of the best catches on
the Oregon Coast
are walking distance from our many overnight facilities. The river also serves a nice winter steelhead run. Town Lake (on the northern edge of town) is stocked very heavily during spring and summer with nice trout. Huge Ling Cod and other bottom fish are an easy catch in our surf.
---
Fly A Kite
Next time someone tells you to go fly a kite, tell them only if you can do it on Pacific City Beach. We generally have a mild wind in the afternoons perfect for kite flying.
---
Golf
We have two fun golf courses within a 10 minute drive south from PC to the quaint village of Neskowin. Check their listings in our directory
---
Hang Gliding and Paragliding
Almost anyone can learn to hang glide and paraglide with proper assistance and supervision. Hang gliding starts with a ground school lecture, video presentation, and using a ground simulator. Starting on the flat beach, you learn the proper techniques of launching and landing. You then proceed to lower slopes of the Cape Kiwanda dune to get your first flights only 5 feet off the ground.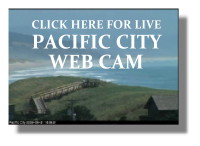 This ground skimming is great fun and even children can do it safely. In fact, hang gliding teaches you the basics of aerodynamics, meteorology, and complex skill development in a beautiful location. Its a great activity for school and church groups, corporate teams and those wanting a more fun, exhilarating and challenging form of flight.
---
Hiking and Backpacking
We have some of the coolest hiking trails (all within walking distance). See the forest service site for details. Cascade Head is one of the local favorites and very rewarding.
---
Horseback Riding
Pacific City welcomes all horses and their people. We have a restricted and well enforced speed limit downtown with bike paths (just right for horses). There shouldn't be any spook problems and all businesses would welcome a tie off out front. Bob Straub State Park is the perfect staging area with a large asphalt parking lot with designated parked for horse trailers. There are trails all through the park which winds through the spit with access to the beach. Enjoy video of horseback riding on beach in Pacific City below.
---
Marine and Mammal Animal Watching
Just sit on the beach and watch natures parade of marine animals swim and frolic in the surf including seals, sea lions, otters, and porpoises. You are very likely to spot deer, raccoons, and our famous beach bunnies (at the Cape Kiwanda RV Park)
---
Monolith watching
Of the two "
Haystack Rocks
" on the Oregon coast, ours is the largest and most interesting. Locals refer to the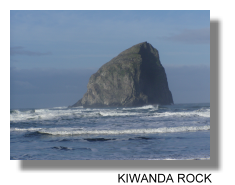 rock as Chief Kiawanda (note different spelling than Cape Kiwanda). The area was inhabited by the Nestugga Tribe up until the late 1800's with Chief Kiawanda as their leader. The Cape and Rock was referred to as "Chief Kiawanda's playground". If you look closely, you will see the profile of the Chief with this face pointing south and his "ponytail" being the loop on the north side of the rock.
---
Nothing in particular
This is our favorite pastime.... just hang out and do nothing in particular
---
Off Roading
Although vehicles on PC Beach must be licensed and legal for road, just a couple of miles to the north is
Sandlake ORV Recreational Area
with dunes the size of mountains. You can take your own or rent one (see "Sand Lake ATV Rental" in the directory). See the Hebo Forest Service for permits. Even if you don't ride, watching is a blast...
---
Picnicking
Grab some grub from one of many local eateries and take it down to the beach or one of several parks and "eat out". Food always tastes a little better with fresh air in the mixture.
---
Photography
Pacific City Area is probably the most photogenic area on the Oregon Coast. We have it all. Besides the abundant critters, we have the ocean, beach, the cape, trees, flowers, boats, great people, and the most spectacular sunsets sinking behind Kiwanda Rock. Many visitors literally use up several rolls of film on one sunset as it changes by the minute. No one is ever disappointed...
---
Sandboarding
Sandboarding is the latest and coolest sport on the Oregon Coast and it is a popular sport among snowboarders who cannot wait until winter to board.
---
Sand Dune climbing
You can't miss our mega sand dune. It is the backdrop of Cape Kiwanda and makes for a fun (and challenging) climb to the top. Most people run and jump their way down, but the daring Hang Gliders take advantage of our great updrafts the cape and warm sand make.
---
hopping, Shopping, shopping...
Of course we have many many fine and fun shops to browse until your hearts content. There are about a dozen galleries, gift, collectibles, and antique shops in town. If you can't find something special here, you didn't take a good look...
---
Surfing
Believe it or not, PC has become well known for our surfing. As the waves roll in around Kiwanda Rock, they form some very unique curls. Of course, the best action is just after a storm. We have the "chairmen of the boards" out all year round wearing their wet suits and a large smile... (check out our "Surf Shop" in our directory)
---
Whale Watching
There isn't a better vantage place on the Oregon coast to watch the migration of the Gray Whale. Climb atop of the cape and enjoy the spectacular view while waiting for ol' Moby to surface. Best sightings in March and May (then again in late fall). Many of our March/May days are very nice weather, sometimes even nicer than inland. "Thar she blows!"
---
Things to do on the Oregon Coast
Pacific City is on the Oregon Coast. There are soooo many things to do on the Oregon Coast.
Oregon Coast
Pacific City is on the Oregon Coast. Learn more about the Oregon Coast here!
Things to see on The Oregon Coast
Are you looking for things to see on the Oregon Coast? The best thing to see on the Oregon coast is of course nature and the coast itself.
Oregon Shipwrecks
Many interesting shipwrecks along the way worth seeing. It is also an indirect way of learning about the Oregon Coast history.
Octopus Tree
The Octopus Tree, also known as The Council Tree is located north of Pacific City by the Cape Meares Lighthouse. Visit the Cape Meares Lighthouse and the Octopus tree at the same time!
Three Capes Scenic Drive
The three Capes Scenic Drive is one of the most popular and spectacular stretches of scenery on the Oregon Coast if not the entire west coast and it start right here in Pacific City.
Cape Meares Lighthouse
Cape Meares Lighthouse is located 10 miles west of Tillamook and is a short drive north of Pacific City.
---
Copyright | Privacy Policy | Disclaimer | Contact