Pacific City directions and information
It doesn't matter HOW you get here... just GET here.....!
---
Pacific City is not a city at all. It is an unincorporated village with a long history. We do not have a City Council or Mayor. Estimated population is around 900. It is also estimated that 60% of our homes are considered "second homes". This means, depending on the time of year, the actual population can dwindle to under 400 (how's that for a small town?). Of course during summer season that population increases substantially. But there always seems to be plenty of room for everyone. If you seek the quiet time with hardly a moving car in sight, come visit during the "off season". I must warn you after spending some time here, it makes it hard to return to the "big city"...
We are an easy destination regardless of your origin. We are considered central coast so it doesn't matter where you are coming from, you can get here without major traffic or turns.

Portland & Willamette Valley
Most folks leave Portland via 26w and then veer off onto 6 outside of Hillsboro. This lets you out in Tillamook. Turn south and follow 101 for about 22 miles until you see the Pacific City turnoff (about 2 hrs)

Salem and South valley
Take either 99w from I-5 (which turns into 18) or 22 out of Salem (which also turns into 18) and follow it until you reach 101. Turn north for about 18 miles and watch for the Pacific City turn off (1.5 hrs)


Astoria, Seaside, and Cannon Beach
If somehow you have gotten lost and find yourself in one of those "crowded coastal towns", you can easily escape by following 101 directly south 22 miles past Tillamook. (about 2 hrs of beautiful scenery)

Lincoln City, Newport, Depoe Bay
Again, by some misfortune you have made a wrong turn and need to find us, just stay on 101 and watch for the turn off about 20 miles north of Lincoln City.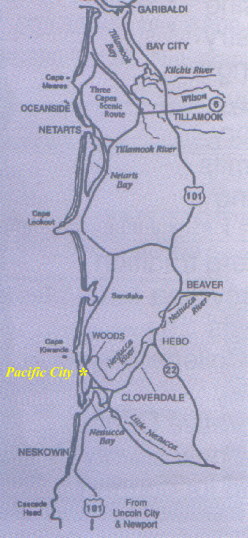 We are in south Tillamook County Just remember we are almost exactly between Lincoln City to our south
and Tillamook to our north


---
Copyright | Privacy Policy | Disclaimer | Contact