The Blue Agate of Taft Beach by JD Adams
By J.D. Adams
---
Blue agate is a gemstone of rare elegance; some varieties are more highly prized than diamond. We found our blue agate in Lincoln City on an area of Taft Beach where beachcombers may note an abundant diversity of collectable objects. The exact location is a point of some conjecture; a conundrum shifting with the tides, where Taft Beach ends and the Siletz Bay begins. Nearby, Schooner Creek adds a final dash of fresh water gathered from high in the
Coast Range
. The bay holds its own gems of history that are revealed when conditions are right, and the ghostly ribs of a lost ship can be seen.
In the promenade at Taft, my wife and I strolled past the dock, looking out across the Siletz Bay. Seals relaxed on the sandy point in great numbers, cavorting in the water while pelicans soared overhead. Amid the sand castles and driftwood, there are pleasant memories here, warm and fragrant as a beach campfire. We plodded through the white sands, past the fishermen and kite flyers to the water's edge, wading into groups of loitering seagulls that parted to let us pass. As the bay shore widened toward the open sea, we discovered a beachcomber's paradise of shells and gems adjacent to the turbulent water.
The current of the bay meets the sea in a curving sweep of beach, spinning into frothing whirlpools, then rising into backlit swells that reveal strange shadows of aquatic life suspended in the water. Zipping along the edge of the bay, a peculiar curling wave defines the area. In this zone seals are frequently seen playfully riding the current with their heads above water, curiously watching beachcombers from a few feet away. Here the sand gives way to polished stones, agates, shells, and assorted treasures.
The blue agate beckoned to us with the translucent glow of sunset's slanting rays. It is one of few we have found on the
Oregon Coast
, in shades of sky to midnight blue, and hopefully not the last. A seal watched us intently from the rolling surf, clapping his front feet together as if applauding our latest find.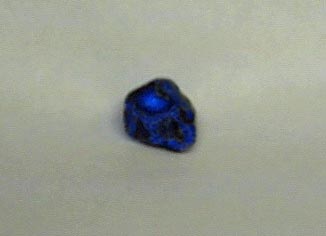 Above picture: Blue Agate
The above story was written and submitted to us by JD Adams. You can send him a
comment
or read other
stories by J.D. Adams
---
Copyright | Privacy Policy | Disclaimer | Contact