The Cannon of Battle Rock
By J.D. Adams
---
Battle Rock is an outcropping extending from the sheltered beach of
Port Orford
, Oregon, out into the Pacific Ocean. It was here that a violent conflict between white settlers and a Quatomah tribe of the Tututni Nation took place in 1851.
The history of Battle Rock began with the passage of the Oregon Donation Land Act in 1850, and the ambitions of William Tichener, captain of the Sea Gull. With the help of John Kirkpatrick, he assembled nine men to start a settlement at present-day
Port Orford
and to build a road to Jacksonville, where gold had recently been discovered. Captain Tichener dropped off the crew near a conspicuous rock on June 9th, 1851, with the intent of returning in two weeks with additional men and supplies, but was delayed. As fate would have it, this rock was strategically defendable, being wide and steep-sided on the seaward end, with a narrow ridge rising from the beach.
During the next day, the native inhabitants became hostile toward the landing party, who gathered on the rock for protection. The group of nine had only a rough collection of arms with which to defend themselves, as Tichener had downplayed the threat of Indians. Three assaults on the nine men were repelled by their rifles and a cannon over the next two weeks. They had acquired the old cannon at the last minute from the Sea Gull. History would no doubt be written differently if not for this last item. Incredibly, in the group of attacking Indians was a white man who had been saved from the wreck of a Russian ship.
The settlers managed to escape during a brief retreat by the tribe. Led by John Kirkpatrick, they eluded their Tututni pursuers as they crossed the Coquille River. The group arrived safely at a community known as Umpqua City on July 2nd, with the help of a friendly Coos Native they met. Captain Tichenor returned on July 14th, finding only the evidence of a struggle, and built the first Fort Orford for the protection of early settlers and miners. The US Army established a second Fort Orford on September 14, 1851.
Today, Battle Rock is a historical focal point and tourist attraction, although care must be taken to avoid the poison oak that may be found growing there. Thoughts drift easily walking the beach in southern Oregon, traveling in the footsteps of the embattled pioneers of Port Orford. Atop
Battle Rock
is a commemorative headstone marking the grave sites of Jake Summers, a member of the original defending group, along with his wife and son, who were all re-interred there in the 1920's.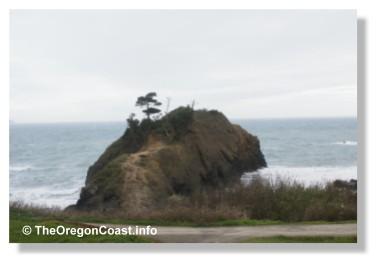 Above Picture: Battle Rock on the Oregon Coast
The above story was written and submitted to us by JD Adams. You can send him a
comment
or read other
stories by J.D. Adams
---
Copyright | Privacy Policy | Disclaimer | Contact